Paragould Pizza Greats
Shift N2 Gear's location in Brookland sits between Paragould and Jonesboro. That means we're a great destination for folks from either town who need a great used car. That also means we have access to both towns' best pizza options. So, if you need to get a fresh ride for your next take-out order in Paragould or Jonesboro, come visit us in Bookland. If you're looking for a great slice of pizza, here are our recommendations.
1812 Pizza Company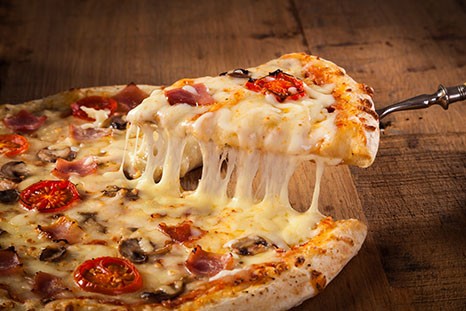 The 1812 Pizza Company is a perfect choice whether you're in Jonesboro or Paragould since this local chain has locations in both. We like options on our pizza, and the topping list at 1812 is just what we're looking for when we can't decide what we're looking for. They've got over twenty options, from the classics to the exotic like artichoke hearts. In fairness, we've never been looking for artichoke hearts, but it could happen. What's just as important as toppings? Feeding the whole family! With the 20'' "Godzilla" size pie, you're fairly certain to have some cold pizza in the fridge for a few nights to come.
Pizza Chef
Fans of specialty pizza that call Jonesboro home are lucky, so does Pizza Chef. This gourmet pizza parlor has called Jonesboro home for over twenty-five years. Their menu of almost 20 gourmet specialty pies has something for almost any craving. They're artists working in dough who put together taste sensations like the Ole Mexicana with refried beans, salsa, jalapenos, and more. The Harvey Burger is a cheeseburger on a pie, covered with cheddar and mozzarella, beef, bacon, and more. Chicken Alfredo? Shrimp and Garlic? They've got it. Think you can do better? You can build your own from a huge list of thirty-five toppings!
Larry's Pizza Of Paragould
Larry's Pizza Of Paragould is located north of us, in Paragould, but the name may have given that away. You don't have to drive to Jonesboro for specialty pies, because Larry has you covered with over twenty options on the menu. Regularly the most popular item on the menus is the famous Fat Larry Supreme. It's everything you love on a supreme baked with care in Larry's oven: beef, pepperoni, mushroom, green peppers, and red onions, with just the right amount of oregano on top. For more exotic options, there's The Delta, a mac and cheese base covered with alfredo sauce and topped with bacon, chicken, pepperoni, and mozzarella cheese. Be sure to check out the current Pizza of the Month for even more unique flavors!
Where are your favorite pizza parlors in Paragould? Let us know on Facebook or Twitter. Do you need a fresh ride to pick up a hot take-out order? Come see us at Shift N2 Gear! We have multiple locations in Arkansas ready to get you approved for the used car, truck, or SUV you're looking for! As Shift N2 Gear, we put you in drive!